Exciting fishing action and beautiful northern Minnesota scenery is what you can expect on your Minnesota ice fishing vacation at Eagle Nest Lodge.
Ice fishing for jumbo perch, walleye, northern pike, crappies and bluegill on Cutfoot Sioux Lake and Lake Winnibigoshish is great fun. Many of our guests return year after year to take advantage of the hot bite.
Our comfortable and affordable lake-side cabins are the perfect destination for your Minnesota ice fishing weekend. Our 14, fully-furnished cabins are open year round and feature accommodations for up to 14 people, full kitchens, fireplace, wi-fi and cable TV. Best of all our Winter Rates are as low as$35/night/person! (based on minimum occupancy)
We do not offer ice house rentals, but there is easy access to Cutfoot Sioux Lake and Lake Winnie right at the resort.
Safe ice usually starts around mid-December, at least six inches of solid ice is recommended for safe ice fishing. We encourage you to book your ice fishing trip as far in advance as possible.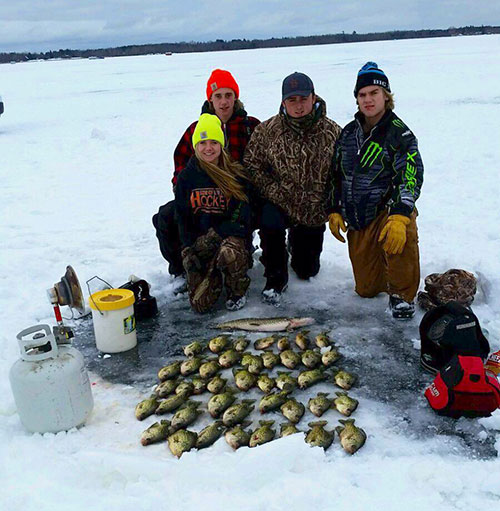 Ice Fishing Equipment
Here's a good checklist of things you'll need for ice fishing in Minnesota.
Basic Ice Fishing Equipment Checklist:
A Minnesota Fishing License can be purchased at most bait shops and area gas stations or online via the Minnesota Department of Natural Resources.
Ice auger (manual or electric)
Ice pick or chisel (used to check thickness of ice and to keep ice holes open)
Ice scoop (to remove ice from hole and sometimes can be helpful in getting fish out of hole – saves your fingers)
Ice fishing rod & reel
Bait (at local bait shops)
Bait system – jigs, lures, tips-ups;  Minnesota allows only 2 lines per person.
Warm clothing and boots
Hand warmers to put in gloves, mittens, boots and inside your jacket or snow pants.
Something to sit on (small stool, easy to carry chair, or even a bucket with a lid – comes in handy to hold all equipment). Also bring a boat cushion to sit on and it can also be used as a flotation device that could save your life.
Snacks & refreshments – water is always a good idea.
Flashlight (nice to have in case you stay out longer than expected)
Tape measure – ensure your catch is a keeper, and good to have when you want to brag when you catch the trophy.
Not Required, but Definitely Nice to Have For Ice Fishing
Portable Fish House – portable units are nice to transport out onto the ice and be mobile. They act as a nice place to store your ice fishing gear. With the influx of large wheel houses it gives the angler the capability of comfort, multiple angler participation, and most often not having to remove the structure from the ice every day.
Ice Fishing Electronics – a quality flasher unit is very helpful; or use a unit with built-in GPS and mapping included.
Heater – definitely a plus.
Four wheeler/ATV or a 4WD pickup.  Use caution when traveling in any motorized unit.  Ice is never completely safe. In general, the following ice thicknesses are necessary for safety:
Walking — 4″
Snowmobile — 5-7″
Car — 8-12″
Truck — 12-15″

"We usually vacation at Eagle Nest Lodge in the summer, but this year a group of us decided to come up for ice fishing. Best decision ever! Caught our limits of perch and crappies every day we were there. The cabins are great to come back to after a "hard day of ice fishing." We'll definitely be back" — Dan & The Gang, Lacrosse WI

Reserve Your Minnesota Vacation Dates at Eagle Nest Lodge Today!