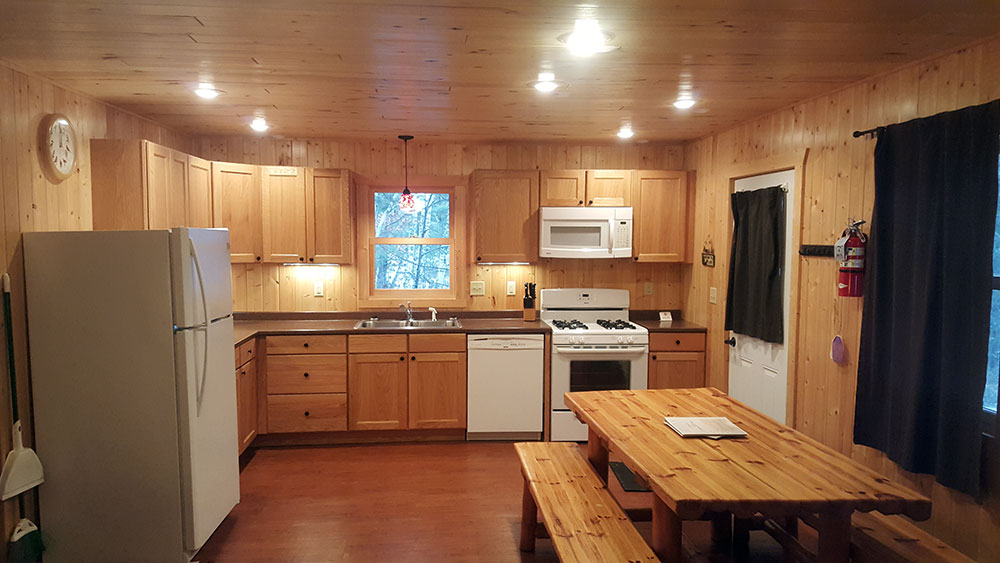 A spacious two bedroom cabin with great family gathering appeal. Large kitchen and living room area, gas fireplace, air conditioning, free Wi-Fi, dishwasher, and bathroom with tub/shower. Lakeview. 2 queen beds, 3 twin beds, and a futon. Sleeps 1-9.
Kitchen Supplies:
dishes
silverware
cooking utensils
auto drip coffee maker w/filters
microwave
kitchen towels
dish soap
Weber charcoal grill
full size stove and refrigerator
Bed & Bath Supplies:
bed linens
blankets
toilet paper
bar soap
hand soap
bath towels
Available for check out:
blender
food processor
crock pot
mixer
propane fish cooker
wok
ice cream maker
waffle iron
Mid-week Housekeeping Service – An optional mid-week housekeeping service, including bed-making, vacuuming, washing floors and cleaning the kitchen and bathroom is available. Please inquire for rates. This service can be arranged at time of check-in.

"My family has been going to Eagle Nest Lodge for 20+ years and we love the peaceful north woods environment. The beautiful beach (the biggest you'll ever see at a resort in Minn.) has plenty of room and privacy if you want it. You can rent boats if you need to, but dock fishing has been great for us also. I have stayed in almost all the cabins and they are good, if there is a problem, they are quick to solve it. I highly recommend this resort, my family has never found another that compares to it." — Judy P., Crystal MN

Reserve Your Minnesota Vacation Dates at Eagle Nest Lodge Today!