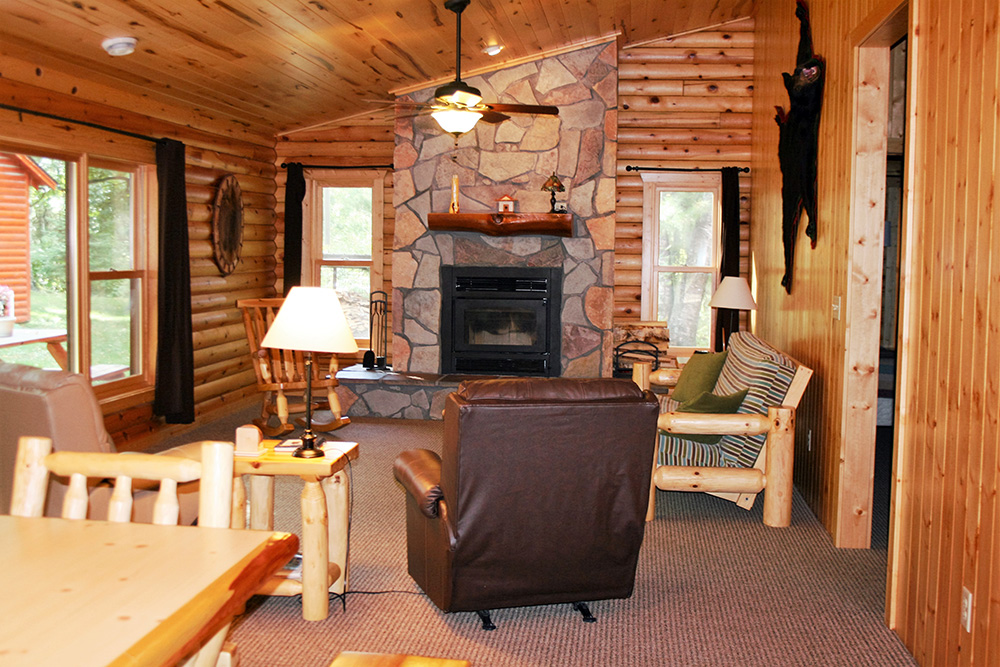 Cabin 11 is a beautiful four bedroom, two bath log cabin with an open floorplan that is perfect for larger groups or a couple families all four seasons.  This handicap-accessible cabin sleeps up to 14 people.  A wood burning fireplace, dishwasher, washer & dryer, air conditioning and free Wi-Fi are great amenities to keep your group comfortable.  There are two bathrooms with tub/shower. Each of the four bedrooms has one king and one twin bed, or can alternatively be set up with 3 twin beds.  Let us know how you prefer the bedrooms set up and we'll ensure they're ready to your specifications when you arrive.
Kitchen Supplies:
dishes
silverware
cooking utensils
auto drip coffee maker w/filters
microwave
kitchen towels
dish soap
Weber charcoal grill
full size stove and refrigerator
Bed & Bath Supplies:
bed linens
blankets
toilet paper
bar soap
hand soap
bath towels
Available for check out:
blender
food processor
crock pot
mixer
propane fish cooker
wok
ice cream maker
waffle iron
Mid-week Housekeeping Service – An optional mid-week housekeeping service, including bed-making, vacuuming, washing floors and cleaning the kitchen and bathroom is available. Please inquire for rates. This service can be arranged at time of check-in.

"This family run resort is nothing short of Top Shelf. A beautiful resort on a beautiful body of water. My wife, son and his family with two kids age 2 and 5 had a blast all day every day. We fished, swam, played on the beach, had bon fires, caught frogs and just laughed for days. The Harris family and their workers make sure everything is easy and care free. Dock boys are there to help once you set foot on the dock, they clean fish and just do anything to make your stay simple. You are in the middle of the forest and are surrounded by huge White Pines, Red Pines Spruce and just beautiful surroundings. We already booked for next year with our only change being we want to stay for two weeks! Tons of things to do, tons of fun. " — Eric K, Ham Lake MN

Reserve Your Minnesota Vacation Dates at Eagle Nest Lodge Today!